My art is…Part street art ratbag, part political cartoon. Mash up of counter culture and childhood nostalgia imagery.
I try to load my pictures with visual metaphors that represent our surrounding urban environment, ideas and some of my opinions about the world around us. If I could communicate my ideas with words I probably wouldn't draw so much.
I use…Pen and paper. Spray paint and walls.
When I work I… I pretty much sit around daydreaming at length and detail about ideas and visuals no one else can see. So my process is what is commonly referred to as having your "head up ya' arse". I spend quite days in town observing and sketching down ideas. Then I develop them further in the studio as finished drawings or just smash em out as street paintings. I try to keep it fun. It rings true to why you started before the world fills your brain with a million rules and theories about what makes something art or graffiti or whatever.
Perth's not so bad because…there are lots of great people here. I think all the stuff people complain about is just a result of not getting out of West Australia enough. So you either gotta travel semi frequently or have imagination to have fun. Being relatively poor I mostly go with imagination.
Over the next year I'm…going to try to pay off the vast number of fines I have been collecting over the last few years. I'm getting sick of the threatening coloured mail I keep getting. Pink and yellow letters are fucked. Also, I'll be showing in Sydney in a Last Chance group show later in year. So ill take the chance to paint the shit out of the streets of Sydney and Melburn, which is more fun than anything else I can think of.
I think that…cunt is a great adverb. "Hand me a pencil" he said cunterly.
Current show…I got a deadly duo show real soon with my art bro Ryan Boserio. DOUBLE FEATURE on 21st of may. Its at Grey Door in Claremont. Round the back of the old Sarah Spiers murder hotel.
Check out Timothy Rollins website here
Here is his interview from Cut & Paste: Issue Nine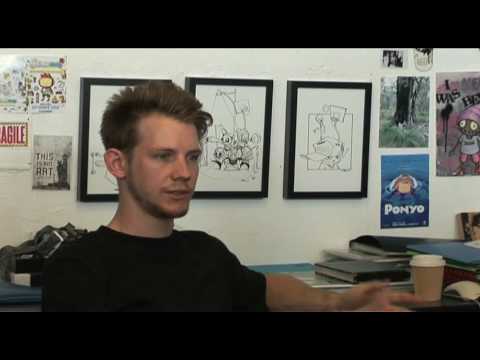 Tags: Grey Door Gallery, Timothy Rollin