Cut & Paste, Last Chance Studios and Paper Chain, in conjuction with Luna Cinemas and Madman Events present… the WA release of Exit Through the Gift Shop (M), the first film by world famous street artist, Banksy at Luna Cinemas Leederville for a Special Limited 2 week Season only commencing June 10.
Before the screening on Thursday June 10, Cut & Paste, Last Chance Studios and Paper Chain bring you an exclusive Pre-Party. The Cut & Paste Soundsystem will play a set inspired by 80's electro and hip-hop,drawing on music from early street art movement film. This will be accompanied by a selection of Perth Street Art images curated by Last Chance Studios and remixed by Paper Chain all whilst Last Chance artists – Creepy, Timothy Rollin & Ryan Bosario bring the art.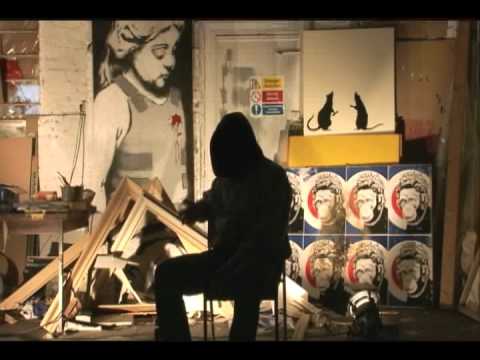 Here's what some other people want you to think about Exit Through The Gift Shop
"Ladies and gentlemen, and publicists: Trying to make a movie which truly conveys the raw thrill and expressive power of art is very difficult. So we haven't bothered. Instead, this is simply an everyday tale of life, longing, and mindless vandalism. Everything you are about to see is true, especially the bit where we all lie. Thanks for coming, please don't give away the ending on Twitter. And please, don't try copying any of this stuff at home, wait until you get to work."
…as is penned by Banksy and presented at the world premiere of his debut feature film at Sundance.
Banksy is a graffiti artist with a global reputation whose work can be seen on walls from post-hurricane New Orleans to the Palestinian segregation wall in the West Bank. Fiercely guarding his anonymity to avoid prosecution, Banksy has so far resisted all attempts to be captured on film. Exit Through the Gift Shop is the story of how an eccentric French shop keeper and amateur filmmaker attempted to locate and befriend Banksy, only to have the artist turn the camera back on its owner with spectacular results. The film contains exclusive footage of Banksy, Shepard Fairey, Invader and many of the world's most infamous graffiti artists at work.
Described as an artist, political commentator, social prankster, fake, visionary Banksy's foray into cinema by doing exactly what he does best, warping reality into something much more fun! In this, 'the world's first street art disaster movie', Banksy becomes the prize catch of Thierry Guetta, a French shop-keep turned videographer who becomes obsessed with finding and filming the elusive painter. Featuring interviews with Shephard Fairey (Obey), Space Invader and a slew of street art luminaries.
"A sly satire of celebrity, consumerism and the art world." LA TIMES
"Supplemented with Rhys Ifans's arch narration and Richard Hawley's underground pop anthem "Tonight the Streets Are Ours," "Exit" could be a new subgenre: the prankumentary. Audiences, however, would be advised simply to enjoy the film on its face — even if that face is a carefully contrived mask.' JEANNETTE CATSOULIS, NY Times
"Legendary British graffiti artist Banksy raises a compelling question in his new film: is there a difference between real and perceived power?" Cynthia Fuchs, PopMatters
'What's true? What's not? Is it a Banksy fabrication, a knowing stunt satirising the art world? Tellingly, there's no director credit. Whatever the truth, it's an amusing, curious documentary." David Gritten Daily Telegraph
EXCLUSIVE SEASON SCREENS FROM THUR JUNE 10 TO WED JUNE 23
Tags: Bansky, Exit Through The Gift Shop