The Issue Nine Launch was a total success. Thanks to everyone who was able to make it along. After some concerns about the event selling out, the persistent and the patient were rewarded as we were able to get quite a few people in on the night. Very special thanks to Virginia and her team of ninja door girls who kept the riff raff away and made sure only the most delicious and well ticketed were able to get their way inside.
The Bird was the perfect venue. I liked the way people used the courtyard area like its a backyard and you can't help but feel like you're at the best house party of the year when you hang out there. Look up and you are reminded that you're right smack in the middle of town look down and you're at your best mate's house without a care in the world. Let's hope the Bird keeps that feeling.
Inside The Bird it was cooking! Right from DJREKAB's first set you could feel it building. A little shower of rain just brought more steam to the mix and when TA-KU got up with his crew of vocalists and his own special tricks, it was damn hot in there.
"Curve ball" Macliver sure knows how to mix it up, just when you thought the night was going to be all beats THE SCOTCH OF ST JAMES injected some whiskey bottle rock and roll swagger into the event.
The big set from the CUT & PASTE SOUND SYSTEM ripped (yeah yeah I know I'm hardly impartial) and by that time The Bird was getting sweaty like a London or Melbourne club, you know those down the lane, round the back corner and down the stairs kind of places that every person who comes back from holidaying in either place pines about for months  afterwards. Yes.
We hope you has as much fun as we did.
Thank you for supporting Cut & Paste
Check out Pussy Thomas' Photos from the night here
Check out Paul's photos from the night here
GOT PHOTOS FROM THE NIGHT?? Comment on his post with a link to your photos so everyone can enjoy them
Here's a little video shot on the night by the youtube phenomenon Grum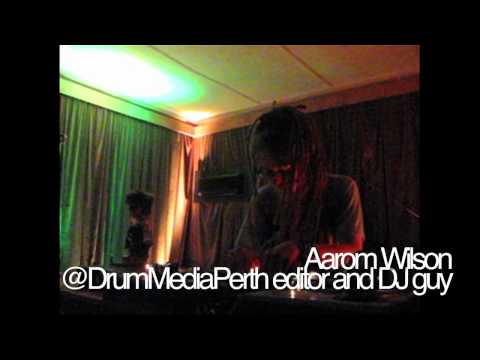 Tags: Coopers Clear, events, Launch party, perth, The Bird