LE DONK & SCOR-ZAY-ZEE is the latest collaboration between UK realist director Shane Meadows and his actor of choice Paddy Considine. It's a delicately funny mockumentary that explores the need to show off one's ego when the cameras are on as well the media's skewing of fame.
Le Donk (Considine) is a hapless Roadie whom filmmaker Shane Meadows (as himself) wants to make a documentary about. Le Donk introduces us to his world; his pregnant ex-girlfriend (Olivia Colman) whom has recently shacked up with a new flame, Richard Graham, who is also the film's editor and aspiring rap artist and Le Donk's tenant Scor-zay-zee (also as himself). Le Donk's master plan is; whilst working as a Roadie for the Artic Monkeys, to somehow get Scor-zay-zee on stage just before the band and finally reach the dizzying heights of fame he so craves.
Meadows is an interesting director with such diverse films under his belt as A ROOM FOR ROMEO BRASS. THIS IS ENGLAND (which now has a series starting up on UK TV called THIS IS ENGLAND '86), ONCE UPON A TIME IN THE MIDLANDS and my personal favourite, and the strongest performance I have seen from Considine in;DEAD MAN'S SHOES which he co-wrote with Meadows.
His latest; LE DONK & SCOR-ZAY-ZEE is similar to his shorter documentaries in many ways, exploring the all too self assured central character Le Donk (a character both Meadows and Considine created through a number of shorts and which inspired Steve Coogan's SAXONDALE) on his rollercoaster of ups, downs, relationship battles and "all the good stuff in between" as he puts it at the beginning.
Roger Corman holds the record for the shortest shooting schedule. The original LITTLE SHOP OF HORRORS (1960) was made in 2 days. LE DONK & SCOR-ZAY-ZEE took just 5 days to shoot, had no script and was completely improvised. It's an amazing achievement and shows what a bunch of talented actors and a crew willing to bow to the limitations can accomplish. The film isn't original by all means, but it is incredibly charming and full of energy and zooms by at just 71 minutes. It could of used a bit more character development in Le Donk, who seems to come to his conclusions towards the latter third of the film with too much ease, and the minor characters could have had a bit more screen time. Especially Scor-zay-zee, whose only real solo screen moment is in the last half when he attempts to find some power for his keyboard.
All up LE DONK & SCOR-ZAY-ZEE is well worth checking out and getting inspired by. Go get planning and figure out how you can make a film in 5 days then send it to WARP FILMS (the films distributer) and if they like it, they may even release it. The WARP FILMS site also lets you Digitally Download LE DONK & SCOR-ZAY-ZEE for a small fee, however MADMAN ENTERTAINMENT have picked up the Australian release rights, so look out for it on DVD very, very soon.
LE DONK & SCOR-ZAY-ZEE
Warp Films
Madman Entertainment
Dir: Shane Meadows
Running Time: 71mins
Technical: HDV
For another point of View check out Dave's Vlog preview of Le Donk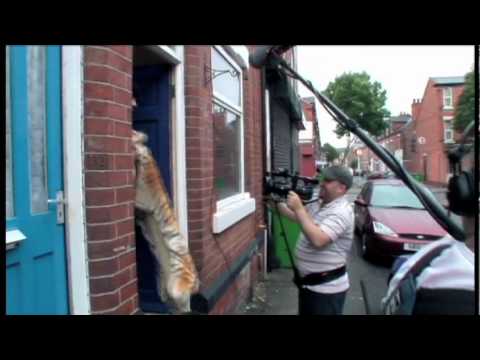 Tags: British cinema, comedy, FILM, hip-hop, improvisation, mockumentary, paddy considine, perth, Revelation Film Festival, scor-zay-zee, shane meadows