How did you come to direct the film clip for Schvendes' 'Lay The Noose'?
I was itching to do another clip after Sugar Army's 'Acute', so I told a few people to keep their ears open for me. One day Dease sms'd. I wish more people would ask – my email is rberney@me.com…
Where did you shoot 'Lay The Noose'… and what was it shot on?
We googled Perth for it's #1 dodgiest Pub – a really funny forum listed out about 30 – with nervous/funny anecdotes. Then in one soul-prodding weekend we visited every single one. It was clear that we couldn't actually shoot in THE dodgiest Perth pub because I was scared of that place.
So we shot in the Fremantle Buffalo club instead.
It was shot on digital – The Red.
How did you come to casting?
We apologetically (no budget) briefed local casting agents to find us two actors who could do the rhumba. They were stoked to be involved with a local music clip and between 'Frog Management' and 'Actors Now' sent the call out to a database of about 5000 local actors/dancers. Casting was held at King St Arts Centre in 15 minute blocks.
Did you draw inspiration from any older film clips in developing 'Lay The Noose'?
Yeah sure, generally for tonal reference – and not just clips. Nick Cave's 'Fifteen Feet of Snow', The Knife's 'Pass it On'. Features like 'Mean Streets & 'The Last Ride' were a few influences.
Last night at a bar someone said the concept had sadly already been done (the new Groove Armada clip) – I think he was off the mark, but you can surely trace some of the techniques in most art to some other place. Personally I think that's cool, as long as your core concept is unique, and true to its purpose.
Did you have complete creative control over the project, or did Schvendes throw ideas into the mix?
I had a generous level of creative control in this one, Schvendes were keenly interested, and were also curious about how I'd run with it. I think they are a very healthy creative community themselves, and they know how to get the most out of each other and what it generally takes to collaborate to a higher end. Might be some of their Freo roots or something.
That said, we had plenty of sessions where we threw ideas together, which I think is vital. Philosophically, I think a music video should essentially be made by the band. If musicians had the same mastery over cameras etc as that they do over their instuments – their visuals would be a perfect marriage to their sound. My role ideally is to be a bridge.
What kind of budget did you have to work with?
The deal was to just let them know if we needed to spend any money. We didn't spend much.
That was ok for me, because this was an important one. Schvendes are world class musicians, and I've always perceived them as an important contemporary West Australian band. From an historical and artistic point of view, they create music that is culturally relevant – I love that.
What other Perth creative's were involved in the producing the clip?
These three people did an incredible job, and just go to show you don't need to live in Hollywood to be near really brilliant film people. Holly Kemp produced/choreographed it, Dave LeMay was the cinematographer, Matt Osbourne edited (although he's just Melbourne hopped [*grumble])
Another website featuring the 'Lay The Noose' video mentions you see 'three main elements in the video' – "it feels Australian, it is a Rumba and it's creepy as fuck" … Can you explain?
I guess that was a brief I gave myself to keep the initial idea generation on track. Staring at a blank page waiting for an idea is often exciting and sometimes scary. There are techniques I use to make sure it happens well. I should say at this point that I am, by day, a filthy adman – My job is to come up with ideas for clients' ads and then manage its creation – I'm an advertising creative. Idea generation is my currency. This is partly the reason I love doing music videos – it's still a communication art – but the art bit is ramped up.
Anyway, coming into this project I make a promise to Schvendes to do my best to get the tone right. Nothing worse than a clip that doesn't feel like it matches the music. So, after listening to the song a stack of times, I wrote down three distinctive feelings I got from the song:
1. It feels Western Australian
2. It is unnerving, slightly tragic, creepy
3. Out of this darkness, something occasionally swings – and it is a rhumba.
The elements formed a loose brief that I worked to and measured concepts against. This probably all sounds really clinical and awful – but it just keeps things focused. Formalising it a bit will make it less about what I want to do, and more about what the music is all about. Honestly though, in the end, like anyone, I just close my eyes and listen to the song.
You've worked on a number of clips for Sugar Army and now Schvendes… do you have any film clips coming up? …are there any Perth bands that you would love to do a film clip for?
I would love to work with 'Schvendes' again, 'Brass & Sassy' are interesting – do 'The Drones' count? I am actually looking for a (possibly) electronic act to work with, I have an idea that I can't shake that needs a repetitive, yet organic feel. The music of 'Animal Collective' crossed with 'Seekae' is kinda what I'm after – anyone still reading give me a holla if you're keen ?
Is it hard making film clips in Perth?
No, I hear making clips in LA is hard. Everyone is unionised and wants money if their house is in the background or whatever.
Perth is dead easy. People are nice here, and are happy to help make cool things for cool bands. There's good light, it hasn't been overshot, and it doesn't have much money which can (ironically) be liberating.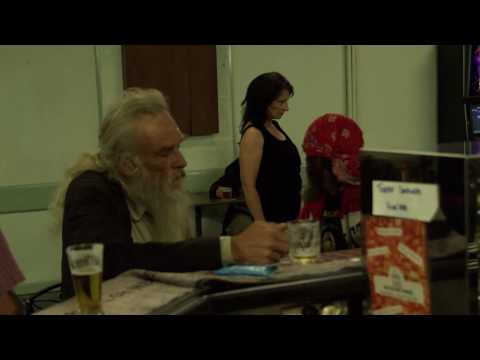 Tags: Austrlalia, dark music, Lay the Noose, MUSIC, music videos, perth, Richard Berney, Schvendes, spooky