Kid Koala proudly presents The Slew Live. Six turntables plus Chris and Myles from Wolfmother on bass and drums. It's rock turntablism like you've never seen it before.
It all started nearly five years ago when Kid Koala and Dynomite D were working together to create a soundtrack for a documentary, the pair were pushing into psych rock territory and and had Mario Caldato (Beastie Boys Producer) on board for the mix. By the time the documentary folded the pair were in too deep to let go so they teamed up with Chris Ross and Myles Heskett – the former rhythm section of Wolfmother – to form The Slew. This monster unit set out to put together a full-blown rock band experience to do justice to the material in a live setting.
Last October they dragged a wall of amps, six turntables, bass, drums and keyboards across America damaging the consciousnesses of rock heads and turntablists alike and now they're heading to The Rosemount Hotel in North Perth to give you the same treatment.
The Slew bring attitude back to the turntable unlike anything you've ever heard. Check out the video at the bottom of this post for a taste.  you can also click through to buy a ticket for the event for only $30.
The Slew's album '100%' is out now through Ninja Tune/Inertia.
KID KOALA PRESENTS THE SLEW: LIVE
Friday 14th May 2010, The Rosemount, North Perth
With Special Guests
Naik and Squidink
Click the banner below to get tickets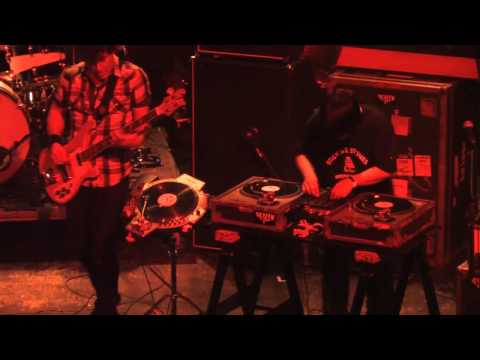 Stuff that other people have said about The Slew
MARIO CALDATO: (BEASTIE BOYS ENGINEER/PRODUCER) "I haven't heard anything this crazy since Paul's Boutique"
EPOCH TIMES: Fusing turntable wizardry with classic rock 'n' roll, a unique album destined to get the b-boys back in the mosh pit. Think of old-school combos such as Aerosmith and Run-DMC, turn up the volume to 11"
GOURMET BEATS.COM: 4/5 Bringing a much needed injection of fresh sounds to the Turntablism. In this digital age, it reminds us of the rawness of the analog sound, and Kid Koala's ability to use the turntable as a true instrument brings it all together to exciting effect. Definitely recommended!"
CULTURE DELUXE: 8/10 The result is a melting pot of psych blues riffs, turntable gymnastics and sample wizardry. The beats and samples on offer ooze with the teachings and influence of classic DJ Shadow, Cut Chemist and Mix Master Mike, and the sleazy, fuzz-drenched bass lines and blues guitars are everything you'd expect from the over the top rock excess of Wolfmother."
Tags: rock, turntablism, wolfmother