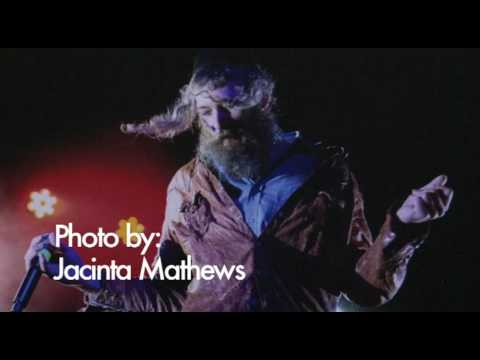 Kiss My Camera is a photographic exhibition currently on display at the West Australian Museum in Perth as part of the WAMI's (the WA Music Industry) showcase happening all this week. The Kiss My Camera exhibition is a new feature to the WAMI showcase, having only been in existence in the last 2 years.
There are 48 images on display tucked away on Level 2 with some of the one's we think are the best featured on our footage (check out the vid!). The photos are taken of live West Australian musicians, international artists who have played in Perth as well as press and promotional photos for bands. There are some great portraits too, especially a fantastic candid of ex-Xpress Editor Bob Gordon as Paul Stanley from KISS taken by Lisa Businovski.
Kiss My Camera is a lovely little hats off to all those hard working photographers hustling in the media pit making sure the images you see in your local street rag and websites are top notch! And to those who have simply grabbed a great moment by being in the right place at the right time. Congratulations to all the finalists, some of whom we all know well, such as Anthony Tran (Sunset and DrumMedia), Jordan Shields (The Wire), Court McAllister (92.9), Lisa Businovski (Xpress), Jarrad Seng and Bridget Turner just to name a few!
Make sure you check it out before the 12th of July and vote for your favourite photo as well.  A People's Choice award goes to the photographer whose image is most voted for! Then Kiss My Camera goes on it's own little musical history tour across regional WA.